Organik for an active lifestyle
STEVIA is a natural sweetener from a plant extract and represents an excellent sugar subtitute.Considering that STEVIA is 250 times sweeter than sugar, here is an interesting way to replace sugar in your favorite recipes. Adding no calorie, it is perfect for those following a diet.
Pro Circuit® Organik offers simple recipes, without additives, made with carefully chosen ingredients of the highest quality.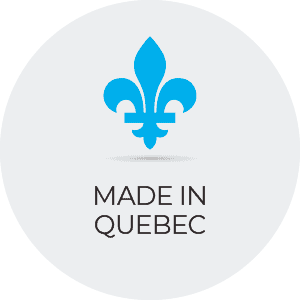 From our vegetable proteins to our powdered mixes of fruits and vegetables, and our vegan maca or spirulina capsules, we want to offer our customers a variety of products which are convenient and easy to use.
100% VEGAN
100% PURE
0 CALORIE
Back to basics for
healthy nutrition
#OrganikLifestyle
Free delivery with purchase of +$69*
* Before taxes. Weight surcharge charges applicable for beverages and items 16lb and over (heavyweight) and cannot benefit from free delivery. Not applicable: Nunavut and the Northwest Territories. Items of 25lb and over are produced on request and have additional delivery times.
*The formats of 16lb and more have an additional delivery cost (heavyweight) and cannot benefit from free delivery.
Replace sugar by stevia in your recipes by considering that two scoops (1g) equals approximately one (1) cup of sugar.
Stevia leaves powder.
WARNINGS: Do not use if the seal is broken or missing. Sold by weight. Store in a cool dry area out of reach of children.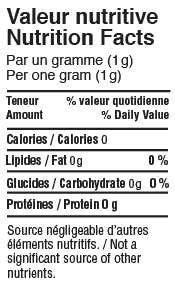 Stevia is a natural sweetener extracted from a small shrub native to northern South America, now cultivated in Central America, South America, the United States, Russia and Asia. Stevia is an excellent substitute for sugar, it is 250 times sweeter than white sugar.
Ideal to avoid chemicals, has no effect on blood sugar, it is also ideal for people with diabetes type I and type II and for hypoglécimiques. Unlike chemical sweeteners, Stevia has no contra-indications.